Klein Plating Works - Metal Finishing & Electroplating Company in Erie, PA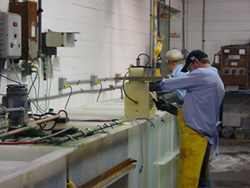 Klein Plating Works, Inc. (KPW) has been a leader in the metal finishing industry since 1915 through our commitment to providing superior plating and metal finishing services with exceptional customer service. Our 32,000 square foot modern plating and metal finishing facility incorporates all the latest technology needed to help your company be successful in today's competitive marketplace. Our advanced computer controlled plating lines are designed to deliver fast, efficient, high-quality plating by means of:
Barrel Automatics
Rack Automatics
Selective or Controlled Depth Plating
KPW can process almost any type of metal substrate and can handle a broad range of shapes and sizes. KPW's primary customer base for plating and metal finishing services is the northeast portion of the United States. However, we are not limited to any one geographical area. We service customers throughout the continental United States, Canada, Mexico, Europe and Asia. We are more than willing to negotiate shipping and lead-times anywhere in the world.